Tom Clancy's Ghost Recon Wildlands. Gold Edition Y2
Game
This product is not available in your region
This product is not available in your region
Ultimate Edition



Get the complete Tom Clancy's Ghost Recon® Wildlands experience with the Ultimate Edition. Includes the main game, the Season Pass, Year 2 pass and Quick Start Pack.
Year 2 Gold Edition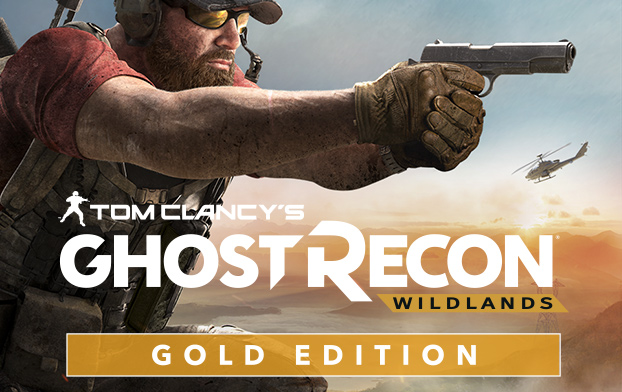 Upgrade your Tom Clancy's Ghost Recon® Wildlands experience with the Year 2 Gold Edition. Includes the main game and the Year 2 Pass.
Season Pass Y2
Get the most out of the second year of Ghost Recon® Wildlands with the Year 2 Pass and unlock the 6 Year 2 Ghost War Classes with a one-week early access.

Receive immediately the Splinter Cell Pack, including Sam Fisher iconic night vision device goggles and other customization options, as well as 8 Battle Crates.


About the Game
Create a team with up to 3 friends in Tom Clancy's Ghost Recon® Wildlands and enjoy the ultimate military shooter experience set in a massive, dangerous, and responsive open world. You can also play PVP in 4v4 class-based, tactical fights: Ghost War.
TAKE DOWN THE CARTEL
In a near future, Bolivia has fallen into the hands of Santa Blanca, a merciless drug cartel who spread injustice and violence. Their objective: to create the biggest Narco-State in history.
BECOME A GHOST
Create and fully customize your Ghost, weapons, and gear. Enjoy a total freedom of playstyle. Lead your team and take down the cartel, either solo or with up to three friends.
EXPLORE BOLIVIA
Journey through Ubisoft's largest action-adventure open world. Discover the stunning diverse landscapes of the Wildlands both on and off road, in the air, on land, and at sea with over 60 different vehicles.
TRUST YOUR EYES
Taking out the Santa Blanca Cartel becomes an even richer experience with Tobii Eye Tracking. Features like Extended View, Aim at Gaze and Communications Wheel let you use your natural eye movement to interact with the environment – without interrupting or modifying your traditional controls. Now armed with an extensive eye tracking feature set, team communication becomes more seamless, firefights become more intense and exploring your new surroundings becomes an even more immersive adventure.
Compatible with all Tobii Eye Tracking gaming devices.
----
Additional notes:
Eye tracking features available with Tobii Eye Tracking.
Tom Clancy's Ghost Recon Wildlands
This product is not available in your region
This product is not available in your region
Unlock for free 6 PVP Post Launch classes one week earlier!

Get two major expansions
• Narco Road: Get the full spectrum of the narco life as you tear through Bolivia using new vehicles in a series of fast paced missions. Infiltrate various gangs and take out their leaders one by one.
• Fallen Ghosts: After your chopper is shot down during an evacuation mission, your squad will be forced to adapt as they're tracked down by an elite group of ruthless mercenaries.
Extra gameplay content:
• The Unidad Conspiracy missions : Destabilize the alliance between Santa Blanca and Unidad in the Media Luna province.
• Peruvian Connection Pack
Equipment packs:
• Rebellion Ghost Pack
• Unidad Ghost Pack
• Santa Blanca Ghost Pack
Exclusive vehicle
• Bolivian Minibus

Digital Content such as XP booster
Tom Clancy's Ghost Recon Wildlands - Season Pass
This product is not available in your region
Minimum:
OS: Windows 7 SP1, Windows 8.1, Windows 10 (64-bit versions only)

Processor: Intel Core i5-2400S @ 2.5 GHz or AMD FX-4320 @ 4 GHz or equivalent

Memory: 6 GB RAM

Graphics: NVIDIA GeForce GTX660 / AMD R9 270X (2GB VRAM with Shader Model 5.0 or better)

Storage: 50 GB available space

Sound Card: DirectX-compatible using the latest drivers

Additional Notes: Game contains EasyAntiCheat (https://www.easyanticheat.net/) anti-cheat technology and Denuvo (https://www.denuvo.com/) anti-tamper technology.
This product requires Ubisoft Connect activation, follow the instructions to activate it:
- Log in to your Ubisoft Connect account.
If you don't have a Ubisoft Connect account, follow the link to download it https://ubisoftconnect.com/en-US/ and create an account.
- In the upper left corner of the Ubisoft Connect window, click on the menu icon (the icon with three horizontal bars).
- Choose "Activate a key".
- Fill in the "ACTIVATION CODE" field with your license key.
- Press "Activate" and the game will be added to your Ubisoft account.